(scroll down to see winners of 2015 Cook-Offs)
Wednesday, July 6 ~ Most Unique Salsa
A salsa is technically a mixture of items. Traditionally this would be tomatoes, tomatillos, onion and peppers. But a salsa could be made from fruit, vegetables ... candy? Enter a unique mixture of distinct foods (no purees) that can be eaten with a chip and see if your salsa is the most unique.
Saturday, September 17 ~ Homemade Breads
Making bread at home is an art. Bring a loaf of your best hand-kneaded homemade bread, whether it's whole grains and sunflower seeds or walnut-cranberry, and see if your creative baking will take home the prize.
Rules for Entry:
Please indicate your intention to compete by calling or emailing Regina

Murphy

by noon the day before at 342-4800 or regina@emporia.com so organizers can plan ahead.
Entry should make about 50 bite-size servings. Baked goods should be made or cut into bite-size pieces. We will use toothpicks to serve them.
Bring a copy of your recipe that can be left with Regina!
Items that require refrigeration need to be kept cold. This can be done by placing the serving bowl in a slightly larger bowl and freezing water around it the night before.
Entries should be delivered to the market kiosk no later than 10 minutes till the market bell rings (8am on Saturdays; 5pm on Wednesdays). Your photo will be taken with your entry.
At Market Start, shoppers will be invited to taste and vote for their favorite entries. The winner will be announced in the Emporia Gazette.
Market shoppers will judge and vote for their favorite entry. The winner will be featured in The Emporia Gazette and receive a recyclable shopping bag full of culinary gifts and $10 in Market Money.
Murphy's Menu Cook-Off Winners - 2016
Graduation Party Snacks ~ Joseph Kern
Pictured, Mandy Kern, who took 2nd place in the competition.
Contest Results and Recipes at the Gazette website.
Veggie Art ~
Murphy's Menu Cook-Off Winners - 2015
Cinnamon Rolls ~ Cynthia Kane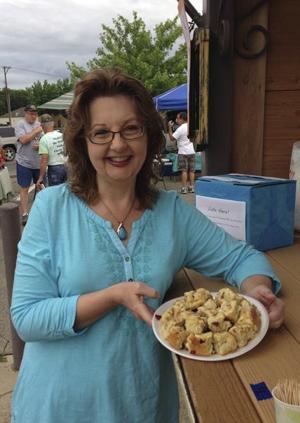 Mini Muffins ~ Mary Gumfory